2015.10/26(Mon)

There, there, again~
The free me has done an update of a makeup post!
I remember doing my first showing half half face in 2009~
And in 2011, I had a post showing my before & after makeup face~
Last year, I did a byoujyaku face post! So here is the 2015 version!



Total naked "before" face

I have many pimple outbreaks recently due to pregnancy hormones~
They left some pretty obvious scar at the chin :(
Before pregnancy, I have a pimple-free complexion!! Arghhh!

The sacrifices of a woman

Also, I have very serious dark circles which I think may be genetic!
No matter how much I sleep it doesn't really gets better~
I sleep an average of 10 hours per day for the past one month ya!
And no eyecream or however amount of tomato-lemon juice helps~
Came to read about it on google, and it says some people are genetically like this!
And and~ my scarred eyebrow! They are kinda troublesome

My make up routine now starts from this bottle of miracle water!
Not ALBION but works like it and is 10 times more economical~
HATOMUGI KESHOUSUI, Skin Conditioner is a COSME No.1 product!
Skin conditioners works like moisturisers lotions toners all in one!
I would use it as a mask and as a wipe to clear pores~
Realised it helps accelerate my hadalabo moisturiser to settle into my skin!
This keshousui can be found in Guardians I think, for $10 or so~
I bought it for 650yen (appx. $7) so I think it's worth refilling from Guardian!



肌プルプルンになったわぁ~( ´ ▽ ` )ノ♡
After my new love, I would still put on my usual Hadalabo moisturiser~
I never realised the importance of moisturising your face before make~
Until I joined Waston's tv program in 2010 introducing the then new Hadalabo!
That day of my life has changed my skin for good! Lol~ 陈年往事!
Until then, I would just cake my face with foundation

(don't know how to use BB cream yet)


Now, I wouldn't be able to carry on makeup without these lotions!
It makes the whole look dewy and glowy and whatever you call it~
Personally, with or without makeup base and primer does no difference to me.
So I think makeup has no one right way to go by, it's customised to each individual!



Meet my another new love, BCL Skin Flat CC Gel!!! *throws confetti*
Not gel exactly, it is just CC foundation cream with sunscreen & primer~
It topped the recent COSME foundation cream rankings so I wanted to get it!
Searched for it like hell in Hokkaido! Only to find it in Tokyo my last day!
So thankful right?! So I thought~ but coming home to find Waston selling it too!
I so remember there wasn't before I flew to Hokkaido *grumps*
And apparently this drugstore baby appeared on 女人我最大 recently too~



This is my first tube of CC cream, which I have no tries on others yet~
But of my 10 years of make-up experience, I think I found my favourite!
Although I always say so when I am using it, but it's really better then KATE!

These two tiny bits can cover my entire face with ample coverage!
Yes, I apply to all the areas on my face~ I think it looks more natural~
All because I am naturally dark skinned so to apply on only certain area....

And after applying it becomes a matte finish, totally natural~
Not forgetting, it smells really good and doesn't dry my skin up!



Right after CC cream, I would conceal~
My favourite concealer is still KATE's stick concealer! 変わらずに♡
Concealer is also another item that only came in half way my makeup journey!
I used to not care and think that concealing is time wasting~ how silly!
But with practice, I am proud to say I can conceal to perfect skin now!
Bwahahaha! Cosmetic is really a girl's life saving jacket! so deceiving!



My concealing journey started from a Canmake liquid one~
It is often too thick and requires alot of dabbing using fingers!
Then I changed to using gel-like concealer it solves that problem but!!
They dry up really quickly even in the bottle and it's difficult to dig them~
All my problem got solved when I found KATE's Stick Concealer (also gel-like)
Using brush to apply & only dab with fingers very lightly~ Fast and easy!
The usual spot to conceal for me are T-zone, dark circles and scars~
Concealing T-zone would allow me to skip the bronzers contouring part! Lol~
Yes, I'm a lazybumbum

After my base is done, I would pat some Hadalabo over again!
I've started Hadalabo since 2010 and has never stopped using it~
Only changing from the white super moisturising series to the blue one~
I'm more into whitening nowadays, I hope this really helps! Lol~ 垂死挣扎(・・;)
So sometimes, I really wonder how girls can have 4829273 brands of skin care~
Using them all at the same time and still know which is really effective~ haaa!



Next step, Foundation Powder!
I know some girls thinks this is so redundant but I just cannot get rid of it~
Mainly I feel, this item can cover up more flaws and leave porcelain like skin!
At good complexion times, I'll skip this and go directly for loose powder~
But patting a little of foundation at the dark circles part is a MUST!



My favourite is still Canmake's Blessed Natural Foundation cake!
I've tried their other series but they doesn't seem to suit my skin as well~
Prior to this, I've tried Majolica Majorca's and I loved it too (still have it's golden case)
But Canmake wins totally hands down in the coverage so... ごめんね、魔女~w



Again, I'll pat some Hadalabo on the powdered face so it stays moisturised~
The nose looks bright because I have used the foundation powder on it too.
Hehe, really does save my money on buying bronzers for contour~
That's the basic concept jyan? You darken a part so another looks bright~
So instead of darkening, I'll just brighten the part that should look bright!
And and and~ my dark circles Orz It is so beyond cure!!

New found love too! Canmake's Glow Fluer Highlighter~
It's cheap and good, probably only $14.90 in Wastons! Or so i think...
Previously using same brand, the plain white highlighter until this came by!
It's said that different colours can cover different symptoms on skin~
Like... Greenish conceals redness, pinkish conceals blue/purple eyebags~
Orange conceals general dark circles and Purple conceals yellow bruising!
So a mixture of these can suit each and every individual's skin colour easily~



When a highlighter gets too matte, it looks "hard" and "fake"

When it gets too shinny, it looks so exaggerating and oily~
The reason I like this is for the glow it creates!
Not too matte not too shinny, it's just right for me~
My usual highlighting spot is heavily at the cheeks and t-zone!!
Occasionally, I would also apply some at the chin, depending on occasions!
A bright cheek is super important, it brightens up your look instantly!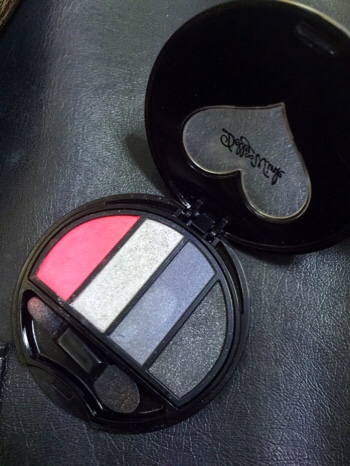 Now comes the drawing part!
Makeup is a skill of art too, I had always believed in that~
It has also been a long long time since I use black as my shadow colour.
Recent years I have been using brown and the shade gets lighter & lighter!
I started with Black, because when I started makeup, I was so into J-rock!!!
That was so 2005! When I was 17! Hahaha! The rebelling age~
Then a couple of years later it became dark chocolate that still looks black~
That was when the J-rock love faded, and I stepped into the society in 2007.
In 2010, I explored shades of brown but never really took a liking to them~
In 2011, I started using dollywink early palettes but always the darkest shade!
Only in 2012, then I grew to like the mocha shade of brown~
Graudually, until now, I can almost make do with any brown shade given to me!
I find this a grow in confidence too because I came to accept who I am~
Lol~ 我的眼影进化史(−_−;‼︎ Hahahaha!



久しぶりな黒シャドウ‼︎ Top, bottom, side of eye and even eyebrows!
Didnt use a eyeliner for this, I just had a line drawn using darkest shade.
My current eyeliner is Dollywink, Heroine Make and SANA Super Quick~
In both black and brown for different look! And they are all pretty good!
I am super lazy and cheapskate to buy and apply too much cosmetic~
Now I would even use eyeshadow as eyebrow powder! It works lah~
Times where I am not lazy, I would still draw a pretty end with my pencil!



Speaking of eyebrow pencils, tadaaaa! Here it is! My poorly abused piece~
I have been using cheap cheap $1 eyebrow pencils from Aries for ages!
Trust me, even mediacorp makeup artist uses and has lots of them!
Don't tell me about counter brand makeup artist, they obviously works ya?
There is truly no much difference unless you sweat even at your brows...
They save you so much money! So many usage on just A DOLLAR!
Other then brows, I use them most frequently to draw my "double eyelid"
I am born single eyelid-ed and no tape, glue or fiber works on my lids~
My single eyelids are just as stubborn as me!

But there's slight creases that has gotten there over my pro-long falsie wearing
So to make it obvious, I would draw on the crease with a brown pencil!
Sometimes, I would draw on the end of my eyes to create a sharper shape~
Or I can draw on the line between my lips & side of my nose...
And then smear it with my fingers to make a contour of face features~



Then comes blusher! I have this love for orange blushers! Hehe~
My new love again, Candydoll's Cheek & Lip cream!



My first time using it as a lip colour~ the effect was not too bad.
Considering I don't really know what is good~ hahahaha!!
As a blusher it is smoother and easier to apply then Canmake's cream.
So 一分钱 一分货 and that's the only conclusion I got

But Canmake's cream blusher is really good for the price you pay! 580yen!
That is like approximately SGD$6 that you cant even buy a Mac Value Meal~
I have stocked up this same shade of pink and a blood red from my trip!
This pink is so essential because somehow, it can brighten my dark circles!
Yes, my pink blusher is patted around my dark circles before I apply blusher~
My dark circles will look extremely outstanding if I don't do so...
Somehow orange and red blushers applied directly at cheeks does that!



Following to lips, on general occasions I dont apply lip colour~
Le husband doesn't like and I dont like define lip shape and colour!
Also because I have different colour lips, top and bottom so it's a hassle!
If I really have to do it, it's either a lazy red or pink tint for convenience~
But I do keep glosses and lipstick (yes I have one) lol~ for what Idk too!
I first had my lip colour adjusted a little with my stick concealer...
Then the candydoll lip colour plus the LB glosses~ which is nice!
I really like this LB lipgloss~ it makes a healthy natural pinkish lip~



After all colouring completes, I'll lightly pat some loose powder.
Generally all over face avoiding the eyes only~ followed by Hadalabo!
Everytime I pat some base powder I feel the need to moisturise it.
And by then, the blusher will look faded again so I'll touch that up~
This Diamond Beauty loose powder is good and affordable!
Works better then a few other brands I have tried, only candydoll's better.
Undeniably I only choose Japanese cosmetics because It's what I believe~
And Canmake being my top favourite also due to it's affordable price!!
Cheap cosmetic doesn't equate to them being less quality worthy~
These drugstore brands can be really effective for asian skin and colour...
It will be good if more woman grow to accept and go less of branded.
Lol~ my twenty cents again...

Last step! FALSIE! つけまつけま付けまつげ~( ´ ▽ ` )ノ
I remember myself arrogantly discussed with my use-to-be best friend Rika...
That if we can fan out lashes so nicely and long with mascara why flasie?!
How it sounded like a slap on the future me? Hahaha! Eating my words~
But really I used to be really good at mascara! I am so proud of that~
I would heat my curler with a lighter for my lashes to last long curling!
So I can brush them upwards and make them look obvious and pretty~
But the way I curl my lashes is kind of intimidating~ I pull them hard!
I know it's gonna hurt them loads but that's not why I moved on to falsie :p
Obviously, falsie is even prettier lah!! So 101% honest in my change~ lol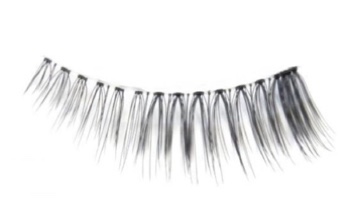 I am using Diamond Lash Secret Eye for this makeup~
But my favourite lashes are still Dollywink for it's unbeatable quality!
No matter how many Japanese lashes being tried none feels like Dollywink.
The falsie's texture and the long lasting band that can be cleans easily~
And my favourite glue is still Dollywink as well but the mini glue in flasie~
Those are really "peel-off-at-ease" kind of glue that confirm wont hurt~
Both your eye and the falsie... And your wallet too! Lol~ Dollywink so expensive!
Those mini glue are not easy to get even from taobao

(yes, people sells them! And crazy people grabs them too!)


So I had gradually made Eyetalk my first option, it's not too bad either~
All is on par other then the ease in cleaning part...



Now all is done! Wahaha! Please forgive my last chance to "act-cute"
After becoming a mother, I doubt very much to still have the chance to~



I yearn very much to keep being a Shoujo, deep down I don't want to grow up!
But as reluctant as I am, I need to let go of what I have been.
これを覚悟してて、心中での少女姿を捨て、前を進むなきゃ~(=゚ω゚)ノ
Of course, I will find a way to stay young! But cute is surely gonna leave me :(



Having said, this picture was taken to sell off my newly bought top!
This sweet top I bought in Hokkaido, I've not even had a chance to wear~
And it's time to say goodbye to it...



可愛いでしょう

いつもの自分、さよなら。
会えてよかった!


少女のゆいより~
スポンサーサイト