2015.10/18(Sun)
Day 2: 02/08/2015, Sunday, Uphill Noboribetsu Onsen!



Second morning in Hokkaido! We had our breakfast at a sharing hall~
Also serving style, not the buffet kind (i dont like buffet, btw)



Breakfast! I love natto with rice for breakfast! Never fails!
There's two portion of mentaiko here! One seared one raw~
Only realised at the later part it's for our ochazuke!
Surprisingly, le husband like mentai chazuke! Shall try making at home!



After breakie, I went to the onsen while le husband went backyard!
He's going out to smoke and so damn suay, got some mosquito bites back!



Dress up after onsen in like 10mins! Cause the car is waiting for us~
They are sending us back to the Noboribetsu station...



So here we are~ waiting for the roundtrip bus uphill!
There is a famous onsen place uphill called Noboribetsu Onsen.
It's a little onsen town with shops and ryokan and a bear park!



That is the Oni (demon) of Jigokudani (Hell Valley)~
And the Bou (demon stick) he's holding, diff colours has diff meaning!



Pretty wild flowers everywhere! It's a good flower season there~



We took the roundtrip bus up and missed our stop! www
Our ryokan is at the second last stop and we didnt press the bell >.<
So we walked back, down a slope with little streams and greens!


HANA

It was too early to check in, we had our luggage rest and headed out!



Heading back to the way we came down from, up a slope again~
Because that's where one of the attraction is located at...



Along the way~ another oni statue spotted! Oyako Oni!



Our destination: Taisho Jigoku, Oyunuma Tennen Ashiyuu



And the walkway inside is exactly like walking a forest~



3 mins of walking and tadaaa! We're here!



There were so many people! Taking up all the spaces~
So we took selfies first! And took photo of the surrounding!



This ashiyuu (foot bath) river is the source of Oyunuma Onsen
And the temperature of the onsen depends on the season~



Awhile later, a big group of chinese tourist left so we had a good seat~



Imo, that seat could take the best photos of this place! Hehe~



The water is grey in colour and has a very heavy sulphur smell~
It was difficult to get use at first but all got better a while later~
You can feel your body warming up just ten mins into the foot bath!


SELFIE

Such a pretty place! Like commercial ad scene!



I was glad I wore such short dress!
Looked troublesome for those who wore jeans~



And le husband attempts to walk to the middle of the river~



For a photo! Hahahaha~



Last selfie before we leave~ i took a similar one in Chiang Mai!~



Walking out of the forest~



Bought this pink frilly wedge specially for this Hokkaido trip!
Because I expected tons of walking!



After passing by our ryokan, out to the main road~
We have come near to the shopping town (turn left from this photo)
But our next destination is the Jigokudani (Hell Valley)~ heading straight!



Getting near! And more Oni statues as expected! Lol~
They are the Hell Valley Demon mah~ wahahaha!



Jigokudani~ the sulphur smell is so many times heavier then ashiyuu!
It's an active volcano and the very source of the Oyunuma Onsen~
That flows to the Oyunuma Tennen Ashiyuu...



Of course, as tourist, we must take wefie!!! Hehe
All thanks to le husband's superior for the selfie stick last Xmas!
But in the end we lost it somewhere on a bus~ lol! the short life of it!



Last photo of it!
And we headed back, I cant stand the smell anymore! Lol~



At the entrance, there is a pretty small hut selling souvenirs~



And milk!!! Hokkaido is famous for their dairy products!
Milk, Ice Creams, Puddings, Cheese!! I wanna try all!



They have two vending machine selling only milk!
Different brand different flavor of milk to choose from!~



In the end, le husband's choice was a better milk brand~
You dont get this good quality of milk in Singapore :(
Not even Meiji or Farmhouse can taste the same!



Walking out of the Hell Valley, you find many pretty Ajisai (Hydrangea)!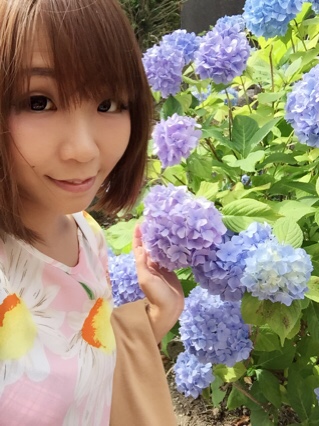 All shades of Blue and Purple! All so pretty!



We have walked into town to find food~



The town is more crowded in the night with more restaurants opened~
so given a late afternoon we have no much choice...
Settle for this Onsen Ichiba seafood resturant~



It is pretty busy inside~ we nearly had to wait for tables!



They had live seafood in two huge tubs and a few big aquarium!



Settled for some Salmon Sashimi first while we think of main!
Salmon is a super cheap & unpopular fish in Japan unlike Singapore~



While waiting for our food, le husband read manga~
He can read his manga anywhere anytime! Lol~ otaku jyan?
He had settled for Yakisoba (expecting the taste we had in kyoto)
But then it was a disappointment as well~ www



I had a Negitoro Don! It's so yummy with raw egg and shoyu!!
Something I cannot eat now :( I miss Japanese food :(



After lunch we had their homemade Ice Cream!



Yums yums! Ice cream in Hokkaido is very rich!
Macdonald's soft serve on good days can taste like that too! Lol~



While I enjoy my Ice Cream softserve, le husband eats~
He doesnt like sweet stuffs so he only taste mine a little always.



Munching his all time favourite Korokke (Croquette) from Combini~



Just a min walk away, there is this little park (really small one)~
With huge Oni Bou (demon stick), each colour has one meaning...
Of which there's good luck, for studies, for fertility etc~
And all souvenir shops sells the mini version plushie!
Or keychains, decorative, prints of it on note books or hanky!



We took a photo with the red stick cause it's for fertility!



Then we headed back up to our ryokan~ pass by this little cottage.



The ryokan we booked is called [雅亭, MIYABITEI]
Checked-in at about 4pm! It's a big scale ryokan!
Almost being hotel like, unlike the usual ryokan we often go to~
But it's not too bad cause it is very comfy! And cheap among all!



Our room at the highest level! Level 10~



Room view! Mountains and little streams down there~



It's so difficult to take photos that do justice to the view we see~
The little stream down there is really clear and pretty in real life!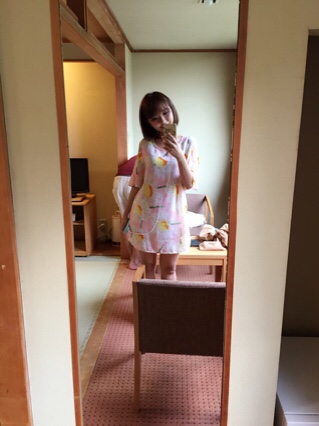 The smoking area beside window has a full length mirror!
Just nice for my selfies~ wahahaha!



Our room's teaset! Looks more luxurious then the previous ryokan~



少し休んで~(=゚ω゚)ノ



Changing up to their yukata~



The lightings at the window is just so damn good!!



Hehe, my le hunsum husband in his yukata too~
Headed out for onsen first since we have ample time before dinner.



Dinner at miyabitei is buffet style~ which is not my favourite kind.
But then the food they provide was quite good~
Look at the amount of salmon we took! That's only 1st round!
The yuzu udon was so super good! But I'm not the udon person~
Soba was good too!! And the little black bowl is Mozukusu~



What's more... SNOW CRAB BUFFET! Legs only thou~



We had three mountain full plates of it! Lol~



Had some melon too~ it's so sweet and nice!



Oni statue outside of the dining hall Shiki~



When we are back at the room, they had our futon laid out nicely!
Headed to onsen again, thou sadly they dont have private bath~
Previously I always make an effort to book ryokan with it...
Cause it's not fun to go into onsen alone! With friends are ok~



Ended my day with the Noboribetsu Pudding!
And a packet of veggie juice! Taste more like tomato juice to me~



But it's healthy and to make sure I dont constipate~ (erm, pardon me)
So I drink at least a packet everyday! :3

以上ですね~(=゚ω゚)ノ

スポンサーサイト