2015.10/11(Sun)

We're having a healthy little baby shawn!
As much as I was hoping to have a baby girl

(i have always wanted a girl)


I knew all along that this is a baby boy! Right from the start~
It's just a woman's intuition and most people say it's always accurate!
To be honest, there was a slight disappointment but gone in a min!



My doctor's nurses called in today to announce my test results~
I had blood taken to test for the baby's DNA for a Harmony Test.
It is a non-invasive test mainly on Trisomy 21 (down syndrome)...
Also, it can test the number of X and Y sex chromosomes in its DNA!!
So we get to confirm the gender earlier then usual! :3
And I was surprised that they took 5 syringes of my blood!
Without me feeling giddy! Since I was always lack of blood~ lol!!
My happy pills after consultation that day~ Iron, Calcium & Folic Acid tablets~
I really hate the calcium tablets it makes me super nauseous!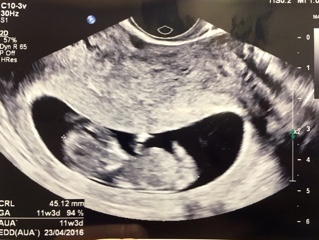 Say hi to my baby boy! It's 4.5cm big now!
You can see it's head and big tummy and little legs~
My next appointment's on 2nd November and it will be 15 weeks old!

I am gradually feeling better each day also lazier each day!
Some days I just want to lie on the bed and do nothing at all~
Some days I feel good enough to eat more and go out for walks~
I get hungry every two hour or so, but I still cannot eat much!
My cravings are all junk food for now, french fries topping the list~ lol!



My lady boss gave me some bird nest when I left my company~
And now that I dont literally throw up what I eat, I tried making some!
With some pear, red dates, wolfberry, chrysanthemum and rock sugar~
But since it is not scientifically proven that birdnest does good to baby...
I've given them away to my grandma :p 借花献佛! Hahahaha~



And I crave so much for Japanese food recently!!!! :(
I was drooling over the taste of japan's yoshinoya beef bowl~
And so we went to the nearest yoshinoya for it but the taste is..........

スポンサーサイト