2015.05/03(Sun)

3rd day started with a good cooling mask! OHAYO!



And finally a OOTD! I missed taking previous days...



We had a gem gallery tour before lunching.



At the palace place we had our first dinner, they have buffet lunch!



Pretty restaurant with full flavours of Thailand!



From decorations to the food served~



I had some traditional noodles, taste like laksa to me



Group photo again! :)



Vain me selfie-ing with pretty things I see!



Vain pot me :p



With the nice people in the company<3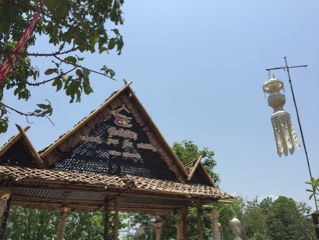 Heading off... to Elephant camp!



Our big bus! It's not the cleanest of all... but it's big!
40 seater, we only have 15 pax so it is comfy!



Here we are at MAESA Elephant Camp!



It was an additional activity Elephant Trekking!
Added on at the very last minute before our trip~



Me and my partner in crime on the elephant!



It was fun!!! More then I expected!



15mins trekking is really fast... but a good experience!



We saw a bathing elephant~



And some of them bathing in the river...



Took picture with one of the zou-san! 20bhat for it!
It knows how to take money from you after you take picture!



Then we watched a elephant show before leaving....



They can really draw~ Maybe better then me!



Our next stop! Long neck heritage village~



Villagers still lives here, they are descendants from China.



This is their school, it's so heartbreaking to see.
We all gave some donations, hopefully could help a little.



The village...



The stalls set-up by the villagers.



Very happy granny who is also very friendly!



And also the long neck village women....
That's a fake ring that weighs less then a kilogram.
The rings they put on their necks are about 4-5kgs!!
Longer thier neck represent more beauty, and I dont understand.



Our company trip has a 2 hour massage included too!



Hey yeah! All 15 pax in a room... both men & women! LOLOL!
Thai massage! I told my masseur to not do my back (scared)
My last thai full body massage went really bad...



Had some chinese dinner again... and then!



Yumms yumms~



Night Market!



There's a starbucks building nearby...
And one right beside the hotel we stayed in.


Walking by the old castle wall to the night market~



It's a weekend market so there's plenty of people!



Had a 30cents yam ice cream stick!<3



Nothing much that is too interesting, I would say.
And the price is not exactly cheap so...



But! Look at le husband's souvenir! LOL!



And I bought myself some pastel bracelet<3



Took a tuktuk back to our hotel, cost us 120bhat (SGD$4)
Ended our day, feeling tired again... Holiday can be so tiring?!



スポンサーサイト