2015.05/02(Sat)

OHAYO! Sunny Chiang Mai is sunny...HOT DIE ME!
Second day is all about travelling, to Chiang Rai...
The boarder town of Chiang Mai, and takes about 3 hours one way!



First spot of the second day, HOT SPRING!



Sound so crazy right? Onsen at 38 degress sunny morning!
But but... it's ashiyuu (foot hot spring) so... worth trying~



ALOHA! it is exceptionally comfyyyyy<3



We all sat by the little drain of hot spring (near bottom stream)
SPOT ME! Hahahaha!



With the mother-like HR & Accounts,Yujie



And the always kind Purchaser, Yiping
Though they are all PRC but they are the best PRC I ever met!



Hi, my pastel shoe~



Selfie time after foot spring!



It's quite a nice tourist spot actually...



Next stop! Wat Rong Khun White temple!



Self-funded by an artist, privately owned.
There are many staff all around the area guarding the art piece.



It's indeed worth seeing, but the white and sliver used...
Plus the sun, I've never felt this much love for sunglasses before!



Really cannot open your eye without a sunglass!



Our stay was short, I spent half the time waiting for a toilet.
Their toilet has no flushing system, you just keep pouring water!



Then then, we had lunch in a resort hotel half way to Golden Triangle!



Everywhere you see elephant statues!



This resort hotel has nice beef noodles!!! *slurps*



Stopping by at Mae Sai, the border of Myanmar & Thailand.
We had 40mins to queue for toilet and shop!
Always rushing for time everywhere we go, cons of tour grp!



Nevertheless, little time we have, we shop!!
Here's the shopping street of Mae Sai, SGD$2 for a UV Brolly!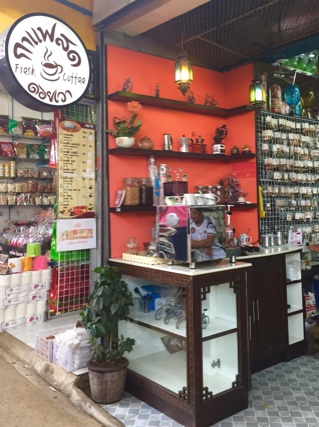 Found a cute coffeeshop!



Selfie while waiting for our big bus after shopping~



Another 30mins ride took us here...
The Golden Triangle of Thailand, home of opium poppy~



LOL! we watched a historical documentary about this on bus.
It is called golden triangle because it is the border of 3 countries.
Thailand, Myanmar and Laos, by a boat you can visit 3 countries!



While the rest of the company went for a river ride to Laos~
The remaining people who has no passport with them walked around.



Bought and ate some bananas~



Walked 3 rounds around the elephant for good luck



Ate some ice cream under the hot blaring sun!



And a group photo when everyone is back~



Then we had dinner half way on the road back to city.



By the river at a chinese restaurant...



Day ended with a birthday cake for our staff!
And 3 more hours of ride back to the town!
The riding part can be super tiring :(

スポンサーサイト