2015.03/15(Sun)

Yesterday, after work we had this impromptu cafe date!



Dolled up myself in a black little dress, and my new choker from Taobao~
Did a make up with colours I don't usually use~ turned out quite well!



Blue metallic eye shadow with Prism Mercury Blue lameliner~
It was kind of weird seeing myself in colours at first, but its surprisingly better then I expected!



First stop, [SHOP WONDERLAND]
Located in the middle of Haji Lane, the so called Harajuku of Singapore!



Its a dreamy place with super good ambience!



We opted for the second level seats at first cause it was full at level 1~
Then we realised only paper cups and utensils are served there due to the steep steps!
Quite clever! But will be less fun for us so we headed down again.



It was a cosy space if you book it for a private event, not sure if it's even allowed~
But having many different groups of people there is quite distracting!



After settling down for a seat by the window~ le husband went to place our order~



We were served the Clam Chowder Soup first~ With a big basket of bread!



Its the best clam chowder I've had so far~
Le husband agrees too, since he's not a big fan of soup, it must be good! Hehe!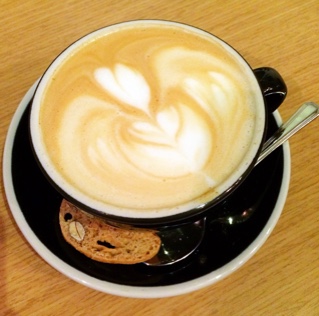 Then came our coffee, I had latte and the husband had some cuppuccino.



The coffee definitely has its nice aroma, however, it really wasn't awesome.



I love the colorful ribbons on the ceiling~ Makes the cafe special!
Only afterwards that I found out, this cafe conducts flower arrangement classes!
As well as calligraphy for wedding invitations!



Left slightly after an hour's stay in the cafe... It was a great experience there!
Will definitely be back! *beams*

Second cafe blogging in progress!