2014.09/29(Mon)
♡*゚+.。:;+.:;。+゚*♡*゚+.。:;+.:;。+゚*♡*゚+.。:;+.:;。+゚*♡*゚+.。:;+.:;。+゚*♡

>>21/02/2014, Thursday, Yokohama



Day 7 into the honeymoon marks the end of travelling around...
After leaving Hakone, we headed straight to Yokohama for the day!



First stop, Chinatown!



I have been there before but le husband haven't so we were there!
Have warned him its a boring place but well, since we are there~
It's worth walking down the street ;)



Saw some cute buns and decided to have one on the cold street~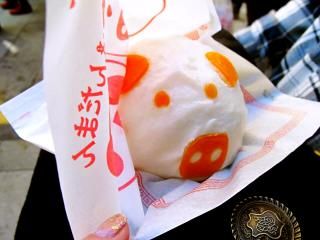 Piping hot "kong ba bao" alike pork bun...
And we also had some different flavoured siew mai before we left~



Next, headed to the bay area...



A little walk from the station to our destination...



Doesnt it look like an artist impression drawing? :D
The structural of the building made it easy to photograph~



The NISSIN CUP NOODLE MUSEUM!



The little chicky mascot of the museum



All the tourist are queuing for a picture with it :)



le husband likes it :)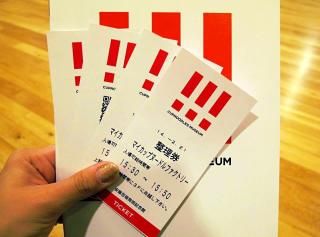 We bought admission tickets
and also tickets to make our own cup noodles!
They had special timings so it will not be overcrowded...



Ta-daa! Our empty plain cups to draw on!
There is no limit to how many cups of cup noodles you want to make.
You just have to buy the empty cups from a vending machine before entering
And each cup cost 300yen (SDG$3.60)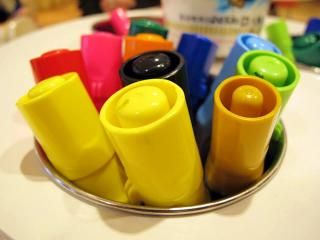 After buying our cups, we had our hands sterilized before entering...
They have a dozens of round tables that could sit about 8pax...
And plenty of colourful markers placed in the middle.



How the drawing area looked like...



Me starting on designing my cup noodle!



Also, in front of us, were menu for the ingredients/ soup base!
That is a wise choice so people will not have to only decide on the spot
Which seriously nay cause congestion at each station~
I spent sometime looking at it deciding mine while I drew...

-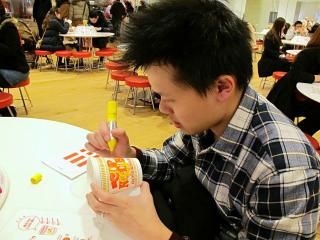 le husband concentrating on his "art"