2014.01/16(Thu)
[Sponsored Review]

Samplestore & Goodskin Labs has generously sponsored!
A Serum for facial firming! SANKYUU LOVES<3

New FIRM-365 Facial Firming Serum with V-Technology



GoodSkin Labs is a targeted problem/solution, clinically-proven
skincare line who delivers real results instantly and in long term.
Established by BeautyBank in 2007, the brand is sold in 20 countries!

*BTW - GoodSkin Lab is a company under ESTEE LAUDER BRANDS :)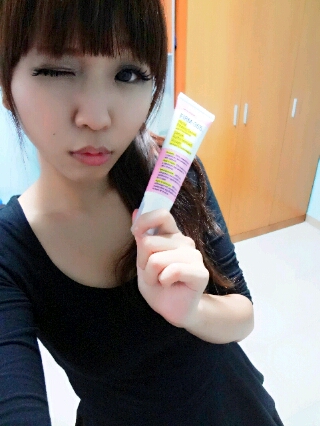 Facial firming is not only for mature ladies~
One should start the anti-aging regime as young as 20!
With me stepping into my 26th year, this should come handy~
*thou, I have yet to find train tracks or sagging signs*



Upon opening... I like, immediately, the pump and cap.
Hygiene yeah~ keep it close always :3
And the pump makes application easy~

Anyway...

Sensory Study Results
Immediate
o 91% of women noticed skin was moisturized
o 83% of women felt skin looked more healthy

After 4 Weeks
o 91% of women noticed skin looked more radiant
o 88% of women felt skin looked firmer
o 86% of women felt skin looked lifted



It smells really good and leaves no greasy feel~
Instantly there is slight radiance change in skin for me.
It's like putting on very very extremely thin bb cream! haha!
Or maybe to be exact, like a primer! :D



What is in it that makes it work the way it does?

Radiance?
o Blend of pearls for instant radiance upon application
o Glucosamine to gently slough away dead skin cells~

V-Face Firming?
o CME, Vitamin C & E complex that helps support
skin's natural collagen production - lifts and firms skin
o Photozomes, a photo activated enzymes with plankton extract
helps support collagen and elastin - makes skin youthful
o Argireline that supports natural collagen production to helps
diminish the appearance of fine lines and wrinkles

Moisturizing?
Sodium Hyaluronate, Glycerin and Trehalose
helps your skin absorb water and retain the moisture.



Retailed at SGD$68.00 per tube (50ml)
FIRM-365 is available exclusively in all SASA outlets
EXCLUSIVE PROMOTION from GOODSKIN LABS:
Eyliplex-2 at only $49 (UP: $68) with purchase of Firm-365



COME JOIN!! 365 "V" Poses Contest NOW~

1. LIKE SASA's Facebook Page

2. Strike a "V" pose just like I did, post it on SASA Facebook

3."Posers" can redeem a FIRM-365 sample from any SASA outlet
or at Samplestore.com

4. FIVE lucky "posers" will each win a $200 GSL product hamper
AND $200 worth of SASA Gift Certificates!!

5. Contest period: 13 Jan to 9 Feb 14


edits:

I FOUND AN AMAZING USE ON ME!!
It can make your after make super radiant!! :3
just spread a little on palm and tap on after make-up face!
Simple and good results for dry dull skin people<3

スポンサーサイト