2013.03/26(Tue)
[Sponsored Review]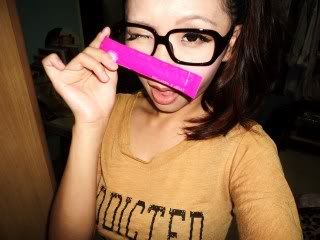 Have you heard of edible collagen in the form of jelly?
It's just like eating jelly when you are a kid<3 But with...
COLLAGEN and more beauty essences in it!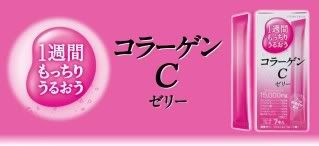 Thank you Confirm Trading for this box of lovely!
Otsuka Group's Collagen C Jelly (Passionfruit Flavoured)


*thou sponsored, does not affect my opinion on the product*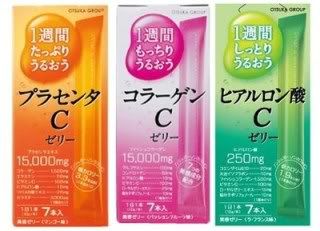 These beauty jellys comes in three different flavours~
Each with different active beauty ingredients to help you!
What's more? MADE IN JAPAN! of premium quality<3

Orange box: Placenta C Jelly (Mango Flavoured)
Pink box: Collagen C Jelly (Passionfruit Flavoured)
Green box: Hyaluronic Acid C Jelly (Pear Flavoured)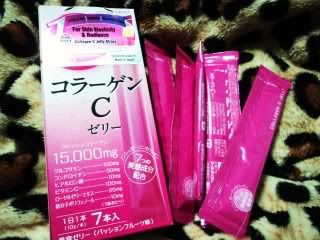 Collagen are probably the most "known" beauty word now.
These important proteins have amazing effects to your skin!
And as a person grow older, collagen depletes empties out...
Best way to grow new collagen on your skin is thru food intakes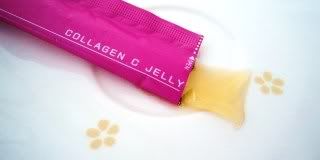 If you are like me, who has problems with pills m(_____)m
Like I keep thinking the pills are gonna choke me and I will die :(
Or you're lazy to consume powder-like supplements~ Jelly is good!
It is just wayyyyyytoo convenient!<3

1) Retrive from fridge
2) Tear open the packaging
3) EAT.

Haha! As simple as that, easy to consume & convenient.
I will reccomend to store in fridge due to it's jelly nature.



This is how much jelly you get from one little sachet<3
it has 98% of Fish collagen, 0.06% of Hyaluronic Acid
and also... 0.16% of Royal Jelly Extract, all beauty spread!

It is also caffeine-free and preservatives-free...
With only 1.9kcal per sachet! Good for dieting peeps too~
I had 7 days supply taken over 10days... (was out of my house)
And realised my skin appeared to be slightly more radiant! :)

*goes grab another few boxes*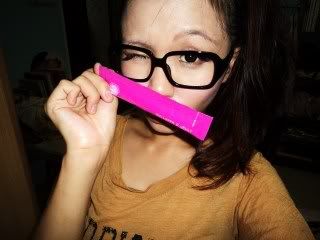 My grandma always says, eat more pig skin for collagen~
But that is sometimes just too disgusting if you eat too much!
Now you can have as much collagen as you want from the JELLYS!!!
Take one sachet per day and you will need 4 boxes a month~



These beauty jellys can be found in Singapore now!!
They are retailed at WATSONS for the price of $16.90/box.
BUT! Introductory Price is only $60/4 boxes now~
And there will Watsons Member Sales tomorrow yo! Just in time!
Check out Confirm Trading's Facebook Page for more info...



I am probably gonna go get the Placenta C Jelly for myself!


XOXO
ゆいより☆
スポンサーサイト