2012.12/11(Tue)
After much procrastination~ here's a more completed post!


Photo Credits: All over the web, my wota cousin & friends, carissa-chan, lovely peiting & more


None of the photos comes from myself actually~ heee!



I had made an entry, participating in this event of the year!
Why say so? Cause GYARU ICON tsu*chan is coming to judge!! *spazzes*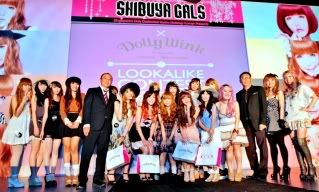 And maybe using up all the luck I had or will ever have...
I got chosen as one of the 15 finalist to strut the runway!!

Have I not mentioned how grateful I am towards the organiser<3
Thank you Shibuya Gals SG once again!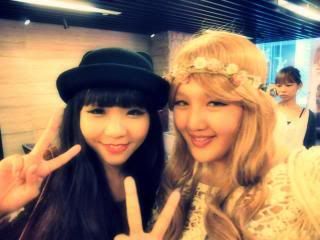 Carissa & Me at the Press Conference
Denise, Peiting and Me at the Press Conference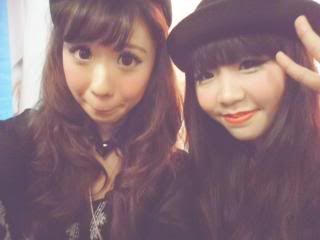 lovely peiting<3



7th December, Friday noon, there was a Press conference.
Where the media came and was my first close counter with tsu*chan!
Emcee for Press conference was Wendy Ashley, she looks gorgeous that day!


*did I mentioned we were from the same sailor uniform school? w*



There was a speech from Xiaxue and Tsu*chan~
And we had introduced ourselves, I was literally trembling :/
and tsu*chan initiated a handshake with all the girls!!
Starting from me, cause I am contestant G15 and closest to exit~ ;p
I was so busy gaping at her awesome features and flawless skin!
All I managed to blurt out was a mirror of her words~ "Arigatou Gozaimasu*
Ahhh~ I should have said something more!!!! *stabs self*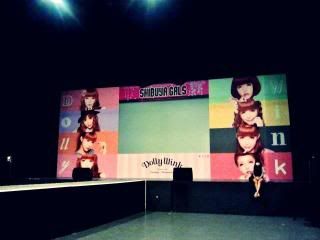 8th december, Saturday~
Came the important morning! We had an early rehearsal at 8am<3
Everyone came suppin! I was in my leopard printed mask! hohoho~
Yeah, that's me in the corner of this picture taken by Carissa~


*carissa is a super nice girl<3 with lots of substance & knowledge! i like (Y)*



Being back on this stage, brings back alot of emotions...
But it is nice to be able to stand up back there! *grins*
The rehearsal lasted a good 2 hour, and I head back home to sleep!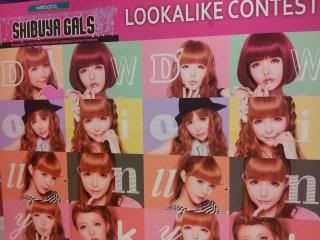 The Result Show starts at 7:30pm~ Free Eyeliner redemption starts 7pm!
But the dressing room is open for use at 3pm! So I went early!
hehe, to start a battle with my stubborn hair & the curler~~
And I made a right choice! :D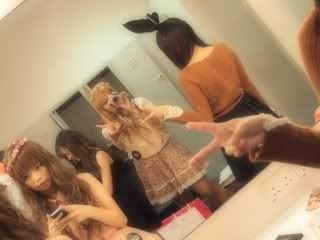 having fun in the dressing room!!~



I curled my hair for a freaking two & a half hour!!! *le gasps*
Yes! *nods* I should have seeked help :( Kelly & Golly did offered some
But i didnt believe I couldnt fight win my stubborn hair so... :3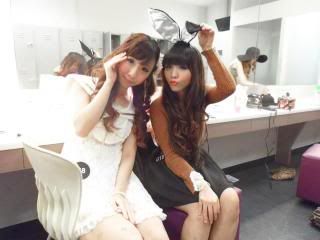 Lovely Peiting and Me<3
Peiting looks so different from her usual image! So sweeeeet<3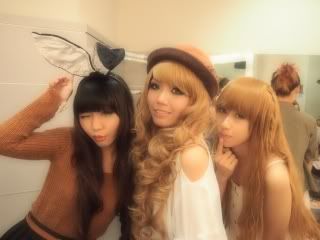 Terumi-chan, Kurumi-chan and Me<3



Carissa-chan, Cosplayer Seika-chan and Me<3
Seika-chan is uber cute max!! She is G14, stands infront of me~
She is like my emotional support for most of the time backstage!



Wanted to photobomb Golly & Carissa taking a pic~



Kelly says Carissa has an elf ear at the first glance! w
And it's actually Peiting's NINJA LEVEL photobomb skills~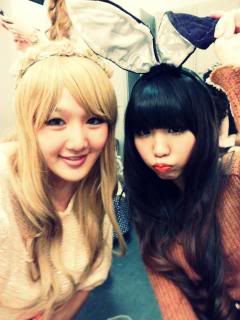 It was really fun in the dressing room.
I haven steal all the photos back~ there were more!!
We went through a last round of rehearsal at 6:30~ And we're all SET!
For the close up judging round from the judges!!!

We all stand by the wall in line, like primary school kids!
Ready for inspection? teehe! Tsubasa & Xiaxue then came to judge!
When tsu*chan reach me at the end of line, OMGOMG! CLOSE VIEW OF TSUBASA!!
I nearly hyperventilated! Cause it was a narrow corridor!!!!!!
Having tsu*chan examining my make-up~ at arms length :D
I dont even mind if I score a zero for it *fans self*

She asked what style and which lashes I was using...
And at the end of it, asked me if I handmade the bunny ears!!
I SPOKE TO TSUBASA MASUWAKA! can die with no regrets<3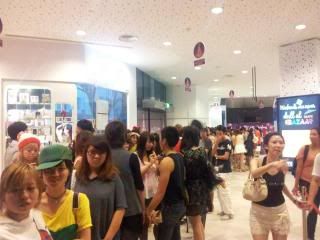 Before the show, heard that there was a queue outside!
Look at the crowd who came for tsu*chan!! *happys*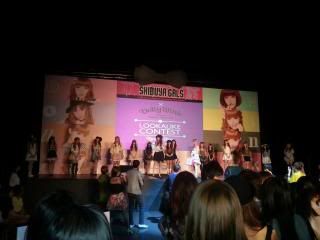 Then the event started *spazzes*
Emcee for the night, Reiko-san~ she is awesome at hosting!!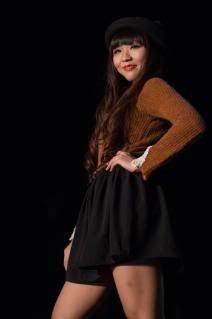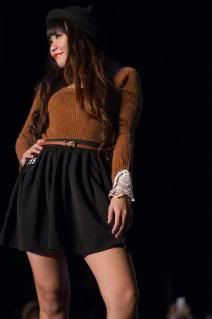 Me walking the Runway~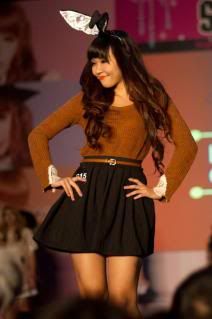 I changed between my bunny ears & nekomimi hat!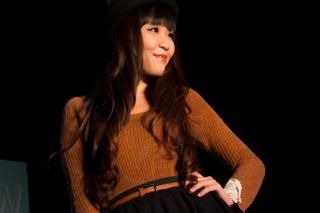 I love this shot that Boon Eng took~ Thank you so much!!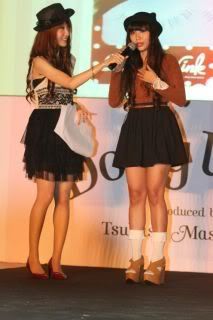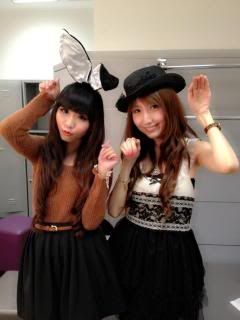 Pretty emcee Reiko-san!! :D I had a funny interview~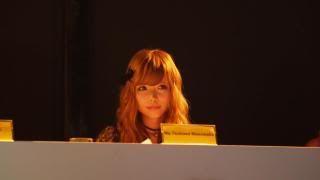 Tsubasa judging the show seriously~



ahhhh~ tsubasa and me in one picture! :D *with everyone thou*
I am glad I am G15 because of the layout~ happened to be center!
And it's a good spot! *laughs with evil* HORA! *grins*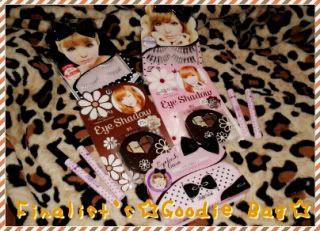 And this is the goodie bag for all the finalist~
DollyWink Lashes<3 Hohoho~ And the eyeliners!!!!!

Grateful to these people: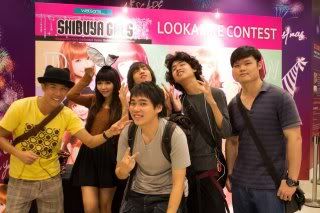 They came early and grabbed a couple of them for me<3
Thank you guys for the support and the eyeliners! w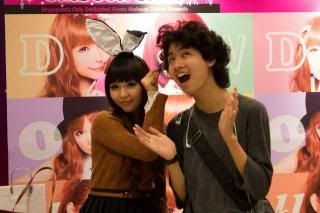 With Justin~ the matsujun no.2! hair~ w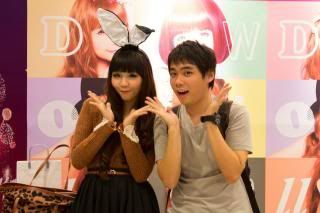 With Boon Eng, my no.1 supporter!! :D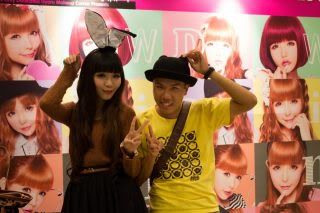 With Henry~ v



With Allan! :3 and the winning board!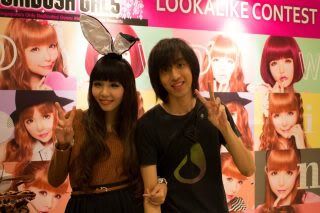 And my wota cousin!! *hearts*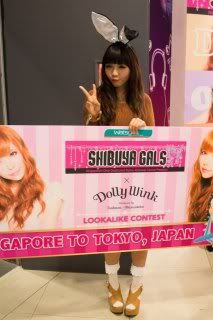 Me playing around with Kelly's winning prize~ *hides from haters*
I hope she doesnt mind :X

I know dont look anything like tsubasa~ I just like tsubasa~
And did not think I stand a chance of winning at all...
All I wanted was an awesome experience that could be with me for life~
And as expected, I did enjoy the awesome night<3



*oh~ AWESOME is such an understatement*





So, Thank you everyone for the awesome night!!! *huggles*
Thank you all my new friends! Thank you Shibuya Gals SG!
Thank you so so much for the people who made this possible...

This is no doubt a once in a lifetime event for me~
And I had my fair share of fun!
スポンサーサイト